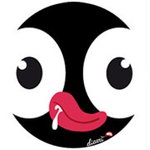 Diavu'
Diavù AKA David Vecchiato (davidvecchiato.com / diavu.com))
Artist, curator, writer, cartoonist and musician.
Since 1997 I have partecipated in various solo and group shows across Europe and U.S. (latest at WWA Gallery in California, at 323East Gallery in Michigan, at Toy Tokyo in New York City, at Art Toy Gallery in L.A.).
Art director of the Mondopop project in Rome (mondopop.it), curator of the Urban Superstar Show festival (MADRE Museum in Naples, Italy) and curator of the project M.U.Ro. Museum Urban of Rome (muromuseum.com).
I teach at the European Institute of Design in Rome since 2001.
My website: www.davidvecchiato.com My work-in-progress: www.diavu.com My blog: www.maniphestovecchiato.com
Read more